The Eixample District of Barcelona, Spain was designed as a new expansion located outside of the original city walls. The areas' street pattern forms a rectangular grid crossed by the wide Avenue known as the Diagonal. It is in this area that you can find several examples of Gaudi's most acclaimed projects and other examples of his style of architecture.
Casa Milą or La Pedrera ("The Quarry") (92 Passeig de Gracia) was designed and constructed without any straight lines and possesses a distinctly wavy appearance. The ironwork on the Balconies is intricate and thought provoking. Casa Milą is one of Gaudi's most famous projects.
Casa Batllo, one of Gaudi's most popular works, is open for touring and an autoguide is included as part of the tour. More information can be found at the official website of Casa Battlo The building is exquisite. Its exterior is a stunning collection of embedded glass and glazed tiles that provide a remarkable, "rolling" facade. Gaudi included a number of surprises in the interior design that make visiting a truly memorable experience.
Interior of Casa Batllo. Exterior views of the building are shown below.
Casa Vicens is located at 18-24 Carrer de les Carolines, Grącia District. It was Gaudi's first project (1878)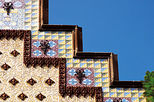 Barcelona Modernism and Gaudi Walking Tour
From Viator Tours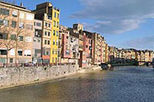 Independent Day Trip to Dali's Figueres and Girona
From Viator Tours
Casa Batllo (43 Passeig de Gracia) is marvelous, day or night. Every detail of the building is custom and it is decorated in a unique manner.
Close up of the tower near the top of Casa Batllo showing Gaudi's attention to detail and his mixing of eclectic styles.
Closer to street level, the windows of Casa Batllo show Gaudi's aversion to the use of straight lines the developed later in his career.