Don't forget that our pictures will show captions when you "mouse" them in Internet Explorer or Firefox.

When a
is shown, click it to see photographs of the attraction.
If you are planning a trip to the Netherlands, this is a country that offers a number of unique delights. Often called Holland, especially in Europe, this familiar name actually refers only to two of the country's 12 provinces. The Netherlands is relatively flat. laden with canals and densely populated. The country provides a number of interesting destinations, most noted for their unique history and attractiveness.

Our road map of the Best Places to Visit in the Netherlands is based on Google Maps. You can use it to route between places, find out the distance between locations, or how long it would take to drive between places. In addition, using the map's "Hybrid" button you can see satellite imagery of the country. Use the zoom bar to see a high level of detail in Amsterdam and other areas of the Netherlands.

Geofact: When the Dutch Territories rose in rebellion against Spain in the 16th century, they were lead by William of Orange who helped establish the independent country we know as the Netherlands. The original flag of the country (the Prince's Flag) had an orange stripe at the top in his honor (although it was later changed to red). Perhaps more interesting is the claim that local horticulturalists cultivated a unique orange-colored carrot to honor William's House or Orange to replace the, then, commonly grown purple carrot.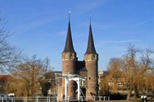 Holland in One Day Sightseeing Tour
From Viator Tours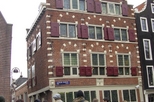 Amsterdam Walking Tour
From Viator Tours
Holland.com is the official tourism website of The Netherlands. The site includes additional details on our recommended best places to visit in The Netherlands, as well as information on locations and attractions that did not make our list.
For country facts on the Netherlands, as well as travel information related to visas, driving rules, safety, medical conditions, visas and other travel-related information, see this page on Netherlands Travel from the Bureau of Consular Affairs of the U.S. State Department. Regardless of your home country, we think you will find the information provided to be useful when planning a trip to the Netherlands.
If you need information about another travel destination, try our Destination Guide Index or Googling ThereArePlaces.
Custom Search