This section of our Paris Travel Guide describes Fontainebleau, an "easy" daytrip to the east of Paris that we highly recommend.
Fontainebleau is an extraordinary chateau, although less impressive than Versailles. Conversely, it is more impressive than Chantilly, another of our choices for daytrips from Paris.

Don't forget that our pictures will show captions when you "mouse" them in Internet Explorer or Firefox.
The entranceway to the Palace leads through the White Horse Courtyard, directly to a very impressive curved staircase. When you reach the center of the courtyard you will be tempted to continue to the staircase but you need to turn and enter the wing on your right to purchase tickets for your tour of Fontainebleau.

We suggest that you take a formal tour or buy one of the inexpensive, illustrated guidebooks available at the gift shop as a substitute.
The Palace of Fontainebleau originated as a hunting lodge. It is located to the southeast of Paris, about an hour away by train, in what was once a heavily forested area. A series of royal residents kept adding on to the original buildings and transformed the palace in to a collection of unique architectures that work together with the charm of a crazy quilt.

The Palace of Fontainebleau is large and dignified, although not quite as opulent or interesting as Versailles. The lush landscape, buildings and gardens interact to provide an enchanting environment that makes Fontainebleau a great place to spend a day.
We recommend that you tour the grounds in order to appreciate the immensity and setting of the Palace. The use of water (in the forms of fountains and lakes) is impressive and magnificent. Be sure to explore Le Pavilion de l'Empereur surrounded by the four acre L'Étang des Carpes. The Etang contains an enormous number of carp, many of enormous size.

The town of Fontainebleau ( surrounding the former royal residence) is a good place to have a bite to eat before starting your tour, as the grounds of the Palace are enormous and require some time to properly view. The area immediately adjacent to the Palace features efficient restaurants staffed by friendly help. Parking is available on the neighboring streets (buy ticket from meters that dispense them and place the stub on your dashboard) or park in the underground garage near the Palace entrance.

Visit the website for the Town of Fontainebleau for more information.
If you need information about another travel destination, try Googling our site or the Web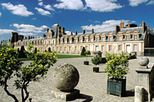 Barbizon and Fontainebleau and Vaux le Vicomte Chateaux Day Trip by Minivan
From Viator Tours