This section of our Paris Travel Guide describes the best places to visit in the Montmartre neighborhood. Click the links below to go directly to a specific place or just continue reading to explore this section of Paris.
Montmartre Sacre Coeur The Moulin Rouge
Montmartre and its attractions are world famous and worth seeing, but the area is a little frayed around the edges. In addition, the location is a little removed from the City's main attractions and, as a consequence, we would not recommend booking a hotel in Montmartre.

The Moulin Rouge continues to be a popular attraction, but attending a show is fairly pricey for two drinks, uncomfortable seats and being wedged in with people you don't know. On the other hand, the Moulin Rouge is a Paris legend and the dancers are very good.

Don't forget that our pictures will show captions when you "mouse" them in Internet Explorer or Firefox.

In addition to our "print-style" maps of Paris, we have added a more detailed street map based on Google maps. To examine a satellite view of the tourist attractions in Paris, click the airplane symbols that accompany our description of most attractions.
In the description following the name of each attraction, the first notation is the arrondissement. The second notation is R for Right Bank, L for Left Bank or IC for Île De La Cité
.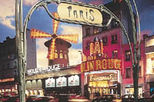 Dinner and Show at the Moulin Rouge with Hotel Pickup
From Viator Tours
Local musicians can tell a tourist a mile away! During a visit to Sacre Coeur, we were gazing at Paris from the steps in front of the church, enjoying the view. A wizened old fellow came around the corner, loaded up his accordion and serenaded us with "La Vie en Rose". It was like a scene in a movie and it worked just fine!
Montmartre (18 ém) (R) 24 is located to the north of L'Opera Garnier.)

Sacre Coeur (18 ém) (R)

Set on the bluff in Montmartre, this church is a well-known Parisian landmark. The church was constructed during the late 19th and early 20th centuries and is characterized by its unique architecture. The view from Sacre Coeur is spectacular and the cathedral's stairs and terrace are often crowded with sightseers.

Sacre Coeur is surrounded by the winding streets of Montmartre made famous by the writers and artists who lived there. The nearby Place du Tetre is a fanciful little square filled with artists displaying their paintings for sale. Stop and have drink while soaking up some of the local ambiance. This is a fun place to visit.
Located on the border between Montmartre and Pigalle 18ém (R) (Bal du Moulin Rouge, 82 boulevard de Clichy)

The Moulin Rouge has an interesting history, including being featured in many paintings by Toulouse-Lautrec. The tickets for the performances are pricey and the densely packed audience consists, predominately, of tourists. The show is fun, lively, and if you want to see the "Can-Can" in Paris, this is the place to see it.

Since April of 2004, the theater has been a no smoking zone.

The neighborhood around the Moulin Rouge is somewhat sleazy (not edgy). Exercise caution at night, as pickpockets, hustlers, and pimps abound.

Cabs may be hard to find when the shows let out. You can catch the Metro at the Blanche Station, if your show lets out before the Metro shuts down around midnight (check the Metro for current schedules)
If you need information about another travel destination, try Googling our site or the Web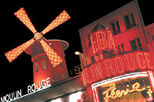 Paris by Night Illuminations Tour and Paris Moulin Rouge Show
From Viator Tours